Bijaya Narayan Maharjan, 38, from Shankharapur Municipality-8, of Kathmandu District, is a constructor by profession. He recalled his memory saying, "We were at Church on 25th April. Thanks to Jesus that we survived. If it wasn't Saturday, we would not have been able to survive in our old house."
Bijaya Narayan Maharjan, 38, from Shankharapur Municipality-8, of Kathmandu District, is a constructor by profession. He recalled his memory saying, "We were at Church on 25th April. Thanks to Jesus that we survived. If it wasn't Saturday, we would not have been able to survive in our old house."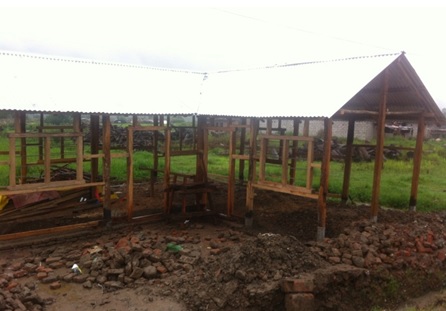 Underconstruction shelter of Bjjaya Narayan Maharjan
For 3 weeks Maharjan, along with his wife and two children, stayed at a church.But it was so crowded that they had to move to his brother's house. As the family of four was adjusting in one room, they were not feeling comfortable to stay in his brother's house. So he asked some of the forums for tarpaulin sheets to cover his damaged house so that he could shift there and could save some household stuffs and crops from rain and sun, but they did not provide any support. Meanwhile, when he was listed as one of the beneficiaries under UN Habitat'sShelter Support Project, with support from the people of Japan, he felt very much relieved to get the support. He requestedone of the engineers from CIUD to do layout bigger than CIUD's shelter design as his plan was to use salvage material from his old house so that he could make it bigger to store crops too.
Bijaya's Shelter size was 24ft by 14ft, 13ft by 14ft one of the biggest shelter CIUD support at Shankharpur Municipality. He spent around Nrs.1, 50, 000 for constructing that house, He had borrowed loans and some of his friends and relatives financially supported him to complete the shelter.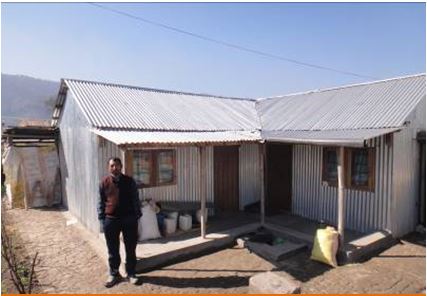 Bijaya Narayan Maharjan at his newly constructed shelter
His statement on constructing the bigger shelter was "My father had just divided property between my brother and me. I choose a plot of land and an old house which was collapsed after Earthquake. I don't think I will be able to build that house as per Government of Nepal Stander. This will be my shelter for my whole life."In the plot of land he have built shelter supported by CIUD and in backyard he have done small farming.
This is an example of how people are going to reconstruction phase in a safer way after the devastative earthquakes. The step that started from Maharjan's family certainly shows 'a ray of hopes' that the affected people at the community level have gained confidence in building their shelters in a safe and cost-effective way.