"A 19-years-old girl, at the age of weaving her dreams for the future, now stands still in front of debris of her flattened house. All her dreams are shattered now. She is afraid to dream now, and what she wants now is just a place, a place to hide herself, her mother, her father and a little brother."
"A 19-years-old girl, at the age of weaving her dreams for the future, now stands still in front of debris of her flattened house. All her dreams are shattered now. She is afraid to dream now, and what she wants now is just a place, a place to hide herself, her mother, her father and a little brother."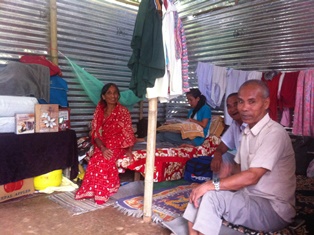 Kanchan Lageju of Bhaktapur-1, spent many days in a tent with her family after the series of devastating earthquakes. Her father was psychologically distressed by the disaster. According to Kanchan, her father started consuming alcohol every day since the first earthquake. Kanchan and her mother were very upset with his sudden change in behavior and irresponsibleness towards his family. "My mother and I always used to argue with my father to build a livable shelter. After more than a month of discussion and argument, my father made a shelter for us" says Kanchan.
Soon after they shifted to the newly constructed temporary shelter, her grand-parents, who were looked after by her uncle, along with her uncle's family asked her family to adjust them in the same shelter. "We didn't have any option than allowing them to live with us, says Kanchan's mother. Their shelter was too small to adjust so many family members, but they were not in the condition to afford another shelter.
As they knew many INGOs and NGOs were supporting deprived and affected people, they were looking forward to receive helps from them. "We were lucky enough to be chosen as a one of the beneficiaries for the UN-Habitat Shelter Project", Kanchan's mother added. Center for Integrated Urban development (CIUD) provided the required construction materials to build their house and the timely monitoring was done to stimulate them to complete their temporary shelter. As their economic condition was poor, CIUD also provided them with extra CGIs (Corrugated Galvanized Iron Sheets) as per their need for the completion of the shelter. Apart from her family problem, she was very pleased and happy for receiving the shelter support from CIUD (supported by UN Habitat Shelter Project and from the people of Japan).