Rajana Maharjan a student and a resident of Sacho-tole have witnessed the conversion of a dumping yard to now an eye catching attraction of Bungamati. The construction of the new two-storey view point was then used as a public toilet facility and a dumping site. "Since it was a public property no one took the initiative for maintaining its hygiene and sanitation. This led the location to be one which locals refused to touch". To use this public space in an effective manner with a proper outcome CUID brought forward a plan to construct a view point in that area.
With its 3D design approved and community convinced, the work immediately began. "After we knew that CIUD is bringing up this construction plan, all the locals gathered to help in the cleaning of dumping site, removing all the public defecation wastes and empting of trees". The works included wall construction at 3 sides of east, west and south direction, stone payment at surrounding of view point, stair construction, provision of flower bed, plastering, coloring and installation of bench and steel bars and leveling the ground and pavement for cycle stand.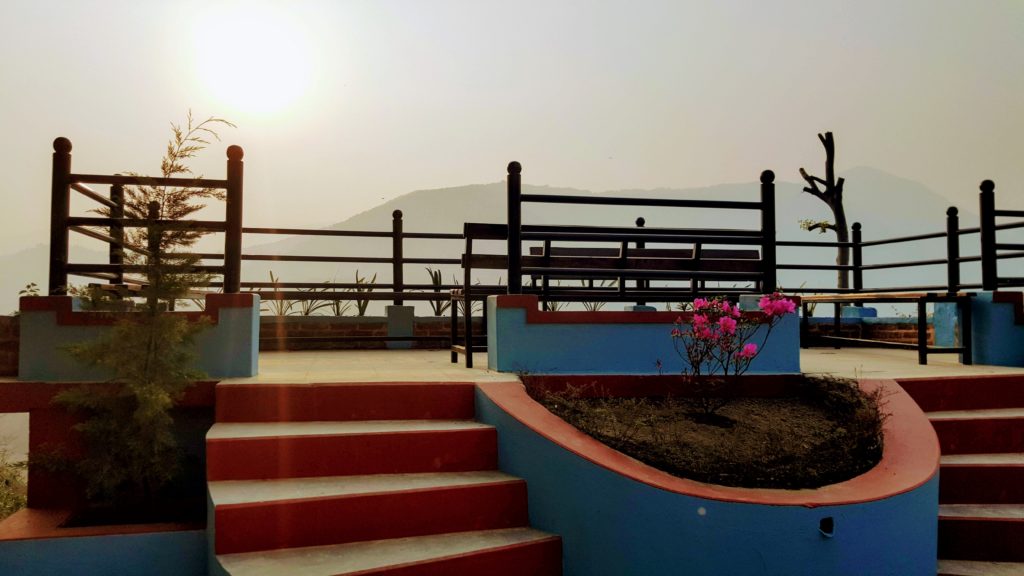 Bungamati View Point, a well used public space
As Bungamati is also a hub for cyclist, cycle stand was also installed alongside the view point. People who came to see the view point would park their cycles in an unorganized way. So, the cycle stand has helped a lot in managing the cycle". Now that the public area is converted into a well managed open space, locals as well as outsiders are more aware of maintaining the cleanliness of the view point. The project has also included flower pots and a small gardening space in order to support the urban gardening concept and to encourage the community members for its care taking. "The residents of this area water the plants and flower pots time and again. They also monitor and aware the outsiders incase of interfering the areas of view point".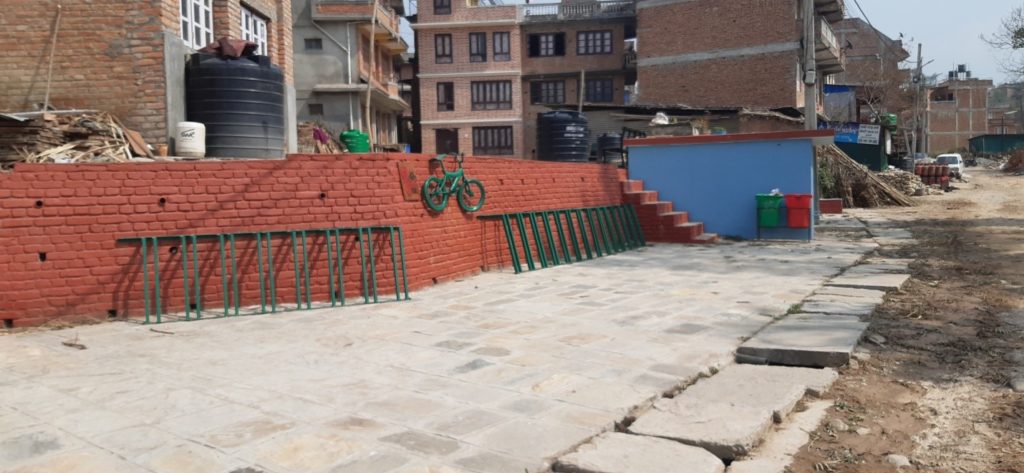 Installation of cycle parking area for cyclists
The project also aimed at adding a café/restaurant in the ground floor and wants the locals to take the responsibility but is not able to move further with the aim. "No one is ready to take responsibility. Even if the project is funding this, the locals are scared that they might not be able to sustain the business later." Now the area is far cleaner than how it was before as a public toilet facility and the project has been able to demonstrate participatory (community-led) open space management.
By – Sumedha Shakya